POET/AUTHOR/GOSPEL SINGER
ARTIST/COMPOSER

"POEMS ARE: LOVE--RELIGIOUS--JINGLES--EVERYDAY MESSAGES"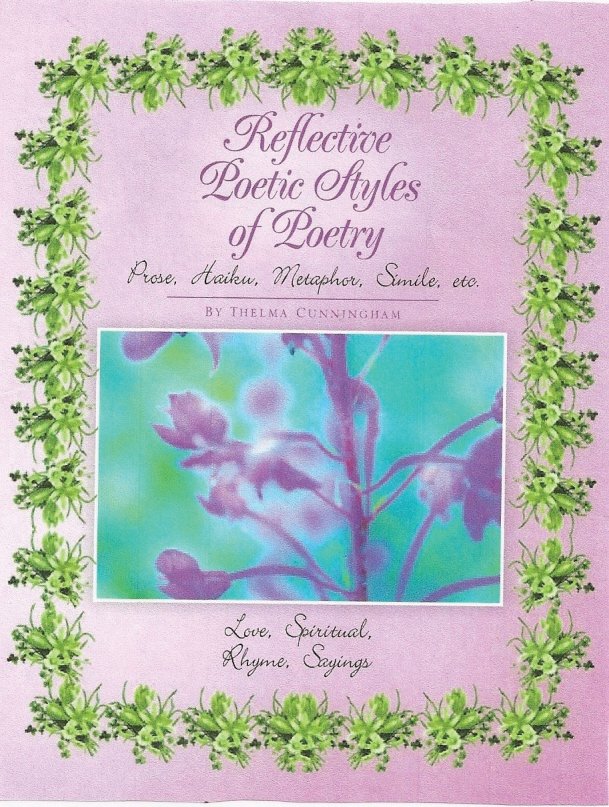 "Hello Again!"  Here Is Reflective Poetic Styles Of Poetry"
This Book Is Now Here Too.  Will Be Ready In Time For Christmas.  As I Gave Earlier Reference Too,
This book Will Focous On Pattern Poetry Such As HaiKu, Simile, Prose, Metaphor, etc. 142 brand new poems.  Poem
Samples: 
                    Love God As Much 
Love God as much as you relish life and subsisting.
Love God as much as you love yourself and the way you want to be loved with fervor, and devotion in return.
Love God as much as you love looking at his beautiful, superlative sunset with adoration.
Love God as much as you love traversing here and there in His wonderful,wondrous world.
Love God as much as you enjoy the rays of his bright, illuminating, glowing,warm sun.
Love and revere God as much as you love sitting at night looking up at the stars and moon that he created and placed there to beam and gleam.
Love God as much as you passionately love doing the things you decide and fancy doing on a daily basis.
Love God as much as you enjoy the splendor, fragrance and intricate beauty of his trees, plants, flowers, and earthly, harmonious scenery.
Love God as much as you love the Holy worship shared when fellowshipping in his presence.
Love God as much as you can because you will never love or adore God as much as He loves and apprizes you..
                    Loves Path
We use to go where flowers grew and swayed.
Where birds would sing their lovely tunes and swim,
When passion was the prevalent choice, friend,
The day the word friend met friend and not stray,
There is no emancipator waiting.
The dwindling, unnourished love expires,
Vacant, devoid, hollow, left in the mire,
Liberator, unobtainable, schemed,
The futile, rotten, mediocre show,
Parading as if to capture a prey,
Like violent vultures, they wait, no go,
She awakes bewildered, mournful, dismayed.
Love has been opposed, she moans, he is cold,
No, it's not okay, he is gone away.
                     RUG
I knew a rug whose name was Doug.
And whenever you would ask him a question,
He would not answer but his shoulders he would shrug,
One day he saw a bug on a rose bud.
He stared at it so hard and so the bug asked him was he
A bug thug,
Doug said oh no,
If anything I would give you a bear hug,
Most folks think that I'm smug,
But by the time that they ask me anything,
It is usually after tugging things that were unplugged,
This is my job all day,
Besides staying where I lay.

Newest Book: Majestic Poetry



Traveler

Where I choose to travel,
You must be wise to follow.
It is the way of the cross.



Do I Hurt Alone

You told me that you loved me.
You said take my hand,
You said take my heart,
You said that you are my man and that together,
 forever no matter what our love would conquer all, last and stand,
And I believed you because you said it and you are my man,
You said that you loved me because there was never a
heartbeat in your heart like the heartbeat
you felt and heard once your heart rhythm did pitter patters with mine,
I flowed in harmony with you on energy that you gave me daily,
With you, my heart pounded out harmonious rhythms, and my very emotions,
found its place in time.
You never left my side.
You held me when I cried.
You placed your hand in mine as we walked together.
Sat and talked together,
As we stood before the minister and said eternal vows together,
You were gracious, chivalrous, noble,
My magnanimous, benevolent, philanthropic being,
You loved me and I thought that the earth had moved,
You gave me thundering, yet tender love,
This awakened my female insides,
And so now I am desirous for your comforts,
You were my earthly king.
You were my earthly warrior.
The elegant, powerful, stout, robust, fortified fleshly edifice,
If you say now that you feel nothing and that from me your heart beat you
take back from mine,
I'll miss its sound and comfort,
I will yearn for you, your love and your protection.
But I will just have to heal with time.

Socks

I really get tired of looking for socks that do not match any more.
What am I supposed to do?
Am I supposed to keep on buying more from the store?
My mom use to take all the mixed matched socks and make puppets out of them.
Now instead of socks, there is a draw full of talking sock friends.
So I guess what I am saying is that I have the sock blues,
Some socks that you lose are your favorites or worn and torn,
Some are faded and some have stringy strings that if pulled,
The shape will be no more,
So I guess it is best to do like all the rest and go to the store
and simply buy some more.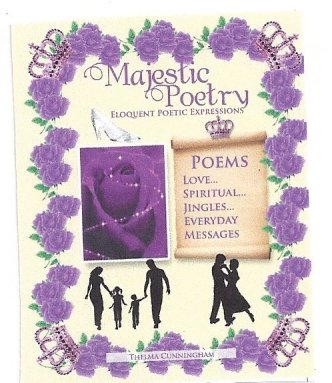 This Is The Book Cover Of "Majestic Poetry"Eloquent Expressions"
There are many wonderful poem selections in this book as well as with all the previous book selections in view also here on site.
Thank You Ever So Kindly For Viewing the site and I Pray that you do make your purchases!  I pray special blessings on all who do make any selection of books!  May what you have in prayer be granted to you!
Thanks Again!
Author Thelma Cunningham
I went to the Garden,
I go there everyday,
I love to visit there,
Sometimes I think there is where
I'll stay.
I might be there from one to six or
more hours night time or day,
I come when I am feeling happy, and
everything is okay,
I come when I am sad and can't find my way.
The garden is a comfort,
The garden is a comfort,
My friend always meets me there,
My friend lives in the garden,
It never matters to him how long I stay,
It never matters to him how long I stay,
I begin to talk to him.
I feel free and unhindered when I become emotional,
He always listens to me no matter what I say,
He always listens to me no matter what I say,
Sometimes I say,"You could have stopped this from happening!"
His reply was, "Did you ever stop to listen along the way?"
"Did they ever try to join you any time on any day?"
"Were you faithful in every way?"
I begin to cry and tell him that it hurts so bad.
I tell him that now I feel that I will always be sad.
He says to me, "Stay in the Garden, "Stay in the Garden."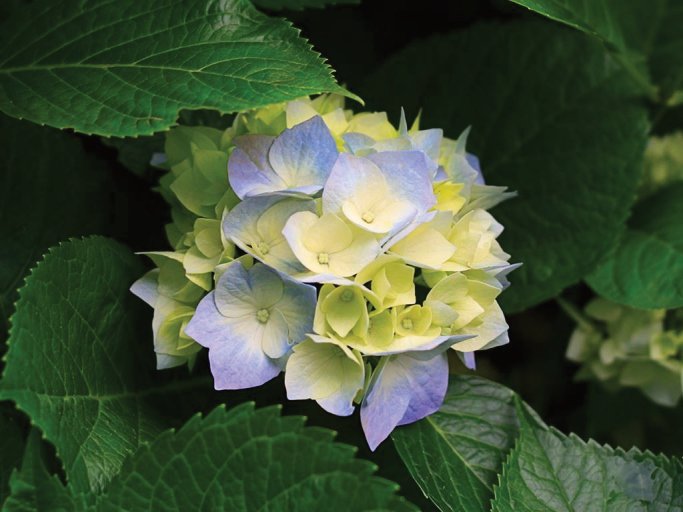 Storm
First the light gray clouds appeared in the sky with a grand vast display of
enormous, puffy, gray masses which began claiming territory as it spread its
presence vastly across the endless once light blue sky.
Then the dark, gray intense puffy clouds formed their gathering and they
over took an abundnce of the territory once claimed by the light grays.
The grays began to move together while approaching each other and when their
paths met, the wind blew around the earth fiercely and the sky appeared forcibly
darker.
Then all of a sudden, lightening came out from the middle of the clouds and made a
terrifying, blazing, electric exhibit,
Then came a thunderous burst from the meshing clouds bringing down pours of rain
inundating everything on earth.
 


 

That way I will be able to let you view samples of selected poems or story features.
Here is an Example
This is a poem from new book: "Majestic Poetry"  "Eloquent Poetic Expressions"
 
In Prayer
I can only come to you the best way that I know how because,
My soul cries out to you Lord.
When I start my prayer, I admit,      
I am feeling so unworthy and unclean and
in such dire need of your loving acceptance and gentle response,                                     
Because, my soul cries out to you Lord,
I just do my best to express fully the issues without charades or pride.
I always begin with worship and praise and thankfulness because,
My soul is crying out to you Lord.
Many times whimpers, silent tears, my fears I always share here,
Often times watery tears accompany the agony expressed before your throne, in
your presence alone because,
My soul cries out to you Lord.
Sometimes it is an emergency and I need you to stop everything and listen, and hear.
And in those times too you always, always, do,
I say this as if at times you are busy, this, however, will never be true of you,
Life has such stressors, pitfalls, disappointments, grave situations and dire
complications.
This is when you definitely find me here on my knees, on my face, because,
My soul cries out to you Lord.
There is no cry or cries that you do not hear.
There is no pain that you do not feel.
There is no suffering that you are not aware of.
There is no human on this earth that you did not make or do not know
how to answer or take care of.
So I come to you Heavenly Father, I come to you my Lord,
I come to you only.
Because my soul cries out to you Lord.
/