Shopping Cart
Your Cart is Empty
There was an error with PayPal
Click here to try again
Thank you for your business!
You should be receiving an order confirmation from Paypal shortly.
Exit Shopping Cart
POET/AUTHOR/GOSPEL SINGER
ARTIST/COMPOSER

"POEMS ARE: LOVE--RELIGIOUS--JINGLES--EVERYDAY MESSAGES"
| | |
| --- | --- |
| Posted on November 13, 2011 at 5:22 PM | |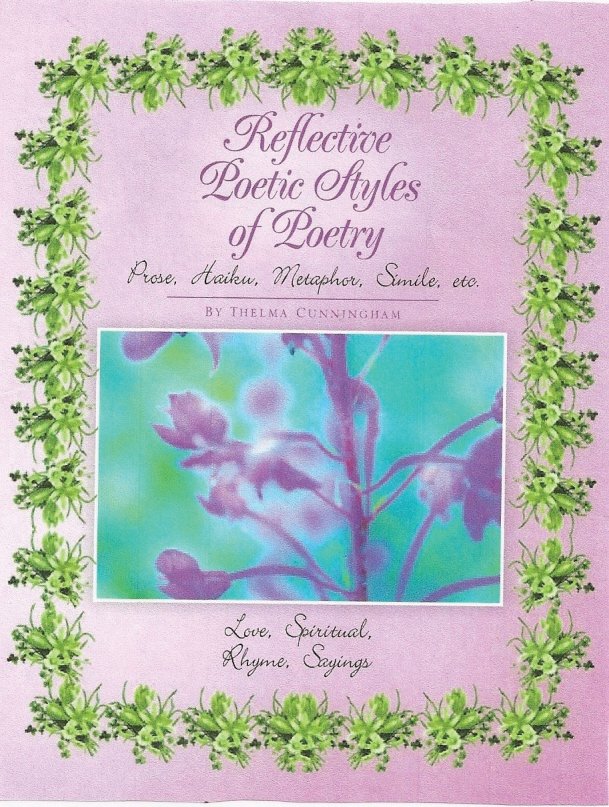 "Hello Again!"  Here Is Reflective Poetic Styles Of Poetry"
This Book Is Now Here Too.  Will Be Ready In Time For Christmas.  As I Gave Earlier Reference Too,
This book Will Focous On Pattern Poetry Such As HaiKu, Simile, Prose, Metaphor, etc. 142 brand new poems.  Poem
Samples: 
                    Love God As Much 
Love God as much as you relish life and subsisting.
Love God as much as you love yourself and the way you want to be loved with fervor, and devotion in return.
Love God as much as you love looking at his beautiful, superlative sunset with adoration.
Love God as much as you love traversing here and there in His wonderful,wondrous world.
Love God as much as you enjoy the rays of his bright, illuminating, glowing,warm sun.
Love and revere God as much as you love sitting at night looking up at the stars and moon that he created and placed there to beam and gleam.
Love God as much as you passionately love doing the things you decide and fancy doing on a daily basis.
Love God as much as you enjoy the splendor, fragrance and intricate beauty of his trees, plants, flowers, and earthly, harmonious scenery.
Love God as much as you love the Holy worship shared when fellowshipping in his presence.
Love God as much as you can because you will never love or adore God as much as He loves and apprizes you..
                    Loves Path
We use to go where flowers grew and swayed.
Where birds would sing their lovely tunes and swim,
When passion was the prevalent choice, friend,
The day the word friend met friend and not stray,
There is no emancipator waiting.
The dwindling, unnourished love expires,
Vacant, devoid, hollow, left in the mire,
Liberator, unobtainable, schemed,
The futile, rotten, mediocre show,
Parading as if to capture a prey,
Like violent vultures, they wait, no go,
She awakes bewildered, mournful, dismayed.
Love has been opposed, she moans, he is cold,
No, it's not okay, he is gone away.
                     RUG
I knew a rug whose name was Doug.
And whenever you would ask him a question,
He would not answer but his shoulders he would shrug,
One day he saw a bug on a rose bud.
He stared at it so hard and so the bug asked him was he
A bug thug,
Doug said oh no,
If anything I would give you a bear hug,
Most folks think that I'm smug,
But by the time that they ask me anything,
It is usually after tugging things that were unplugged,
This is my job all day,
Besides staying where I lay.
Categories: Poetry
/